Description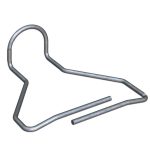 Ties the masonry veneer to the substrate. The Concrete Seal Tie's screw portion has special alternating threads making it suitable for use with concrete, CMU, wood stud or brick backup, and is provided with EPDM sealing washers.
Consists of a Concrete Seal Tie combined with the 2-Seal™ Byna-Lok Wire Tie
The special point affords easy installation into a predrilled hole.
*For Stainless Steel, refer to Thermal Concrete 2-Seal™ Wing Nut Anchor.
NOTES:
2-Seal™ Chuck Adapter required for installation.
The projecting eyelet accepts a 3/16″ x 3″, 4″ or 5″ 2-Seal Byna-Lok Wire Tie for the masonry veneer wall mortar joint.
Adaptable for seismic zones with the simple addition of 9 gauge or 3/16″ continuous wire (just drop into the integral track formed by the swaged, overlapping legs of the wire tie.)
Patents Pending