Description
The THERMAL CONCRETE 2-SEAL™ TIE features a screw with special alternating threads for use with concrete, CMU, wood stud, or brick backup.
Fabricated from stainless steel and COATED with a proprietary material tested in accordance to UL94 (The Standard for Flammability of Plastic Materials) and is designed to decrease thermal transfer through rigid insulation.
The THERMAL CONCRETE 2-SEAL™ TIE has a barrel with factory-installed Stainless Steel bonded EPDM washers to seal both the face of the insulation and the air/vapor barrier.
The large 1-1/2" diameter washer seals insulation and helps secure the insulation to backup, reducing or eliminating penetrations caused by insulation fasteners.
This is an improvement over similar anchors that only seal at the insulation and render the vapor barrier susceptible to air and moisture infiltration if not precisely installed (perfectly perpendicular to the backup).
Requires a pre-drilled 5/32" (4 mm) hole to a depth of 2" (51 mm) into concrete, CMU, or masonry backup .
H&B's Stainless Steel barrels have one-third the thermal conductivity of carbon steel barrels and one-seventh the thermal conductivity of the zinc barrels of our competitors products (refer to chart below)


Thermal Conductivity

(W/cm K)

   

Stainless Steel (Type 304)

  AISI-SAE 1020 (Plain Carbon Steel)

References:




ASM Metals Reference Book, Second Edition, American Society for Metals, Metals Park, OH, 1983.
Lynch, C. T., CRC Practical Handbook of Materials Science, CRC Press, Boca Raton, FL, 1989.
Shackelford, J. F., and Alexander, W., CRC Materials Science and Engineering Handbook, CRC Press, Boca Raton, FL, 1991.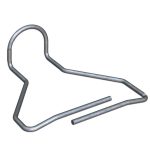 NOTES:
Thermal 2-Seal™ Chuck Adapter required for installation.
The projecting eyelet accepts a 3/16″ x 3″, 4″ or 5″ long 2-Seal Byna-Lok Wire Tie (see right) for the masonry veneer wall mortar joint. The 2-Seal Byna-Lok Wire Tie is adaptable for seismic zones with the simple addition of 9 gauge or 3/16″ continuous wire (just drop into the integral track formed by the swaged, overlapping legs of the wire tie.)
U.S. Patent No. 8,037,653 & 9,140,001
Canadian Patent No. 2,690,819