Description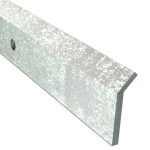 Termination Bars are compatible with all Blok-Lok membrane and copper-laminate flashings. Block-Lok offers two types of termination bars: the standard T1 and the T2, which has a 3/8" flange on top for easy caulking.
U.S. Pats. No. 6,945,000 Other Patents Pending
Blok-Lok recommends the use of stainless steel for maximum corrosion
Blok-Lok sources Stainless Steel from a wide variety of vendors. Per the International Stainless Steel Forum, Stainless Steel objects have an average of 60% recycled content.